Jump to Footer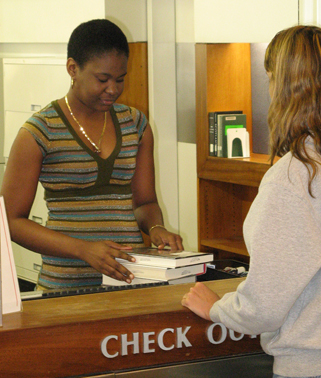 You'll find a Service Desk on every level of Feinberg Library, where you can ask questions and conduct library business. If our staff do not know the answer, they'll direct you to someone who does.
As you enter the Library on the second (podium) level, you'll see our Main Service Desk. This is the place to borrow books or media, pick up materials placed on Reserve by your teachers or a book you've requested on Interlibrary Loan. This desk is also where you can take care of issues related to your library account.
At our 1st-floor Service Desk you can check out headphones, clickers, and library materials. This is also your stop for color printing, laminating, and poster printing.
Our 3rd-floor Service Desk is another place to get help, especially with the nearby microfilm and microfiche, periodicals, media and juvenile collections, and our federal government documents.
Desk services at a glance
Get help and directions
Check out materials
Settle library accounts
Pick up reserves and Interlibrary Loan materials