Jump to Footer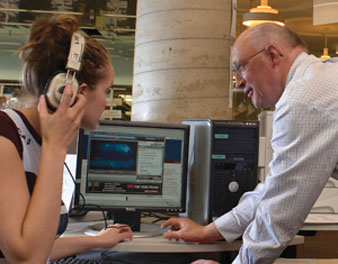 2nd Floor of Feinberg
At our Research Help Desk, located to your right as you enter the library (just past the second-floor Main Service Desk), you'll find librarians ready to answer questions, help you to locate information resources, or use materials online or in print.
Contact a librarian by phone (518-564-5290) or by online chat. You can also make an appointment with a librarian for individual help.
Use the convenient computer stations throughout the library to access Feinberg's licensed resources and obtain scholarly material not available on the free Web. Stations also provide regular (free) Web access and are equipped with Microsoft Office software.
Access the library catalog and a variety of Web-based resources on subjects related to the majors at Plattsburgh; these resources and databases are listed by title and by subject.
Feinberg Research Guides are tailored to subjects and individual classes, and our Digital Reference Resources provide a guide to basic reference resources for the entire SUNY Plattsburgh community.
Research services at a glance
Research help, including ideas for exploring research topics
Help with finding books and journal articles
Free printing
Free copying from reference sources
Computers with fast Internet connections