Jump to Footer
Computer Lab & Presentation Room
---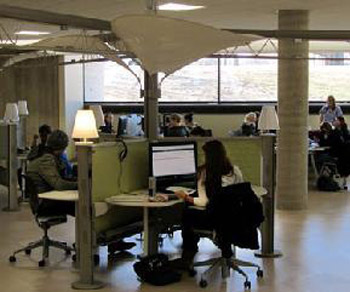 Find our spacious Main Computer Lab on the first floor of Feinberg Library. Our Computer Lab offers…
both individual and group work spaces,
convenient printing stations,
moveable whiteboards all around,
lounge seating with powered ottomans for easy laptop plug-ins,
wireless network connectivity,
a knowledgeable tech staff ready to field questions,
120 computers in the Main Lab, nine in the Lobby, and six in the adjacent Student Technology Resources Center (STRC).
Technology-equipped Presentation Rooms are ideal practice spaces.
5 Terrific Tech Tips
Secure your password — be sure to change it frequently and never share it.
Keep back-up files of all important information on your computer.
Never open email messages or attachments from unsolicited sources. Doing so can expose your system to destructive viruses.
Never give out private information to unsolicited emails or telephone calls. In this way you'll protect yourself from fraud, hoaxes, and "phishing" scams.
Conserve resources — print only what you need. The planet will appreciate your support!