Jump to Footer
Feinberg Library Overview
---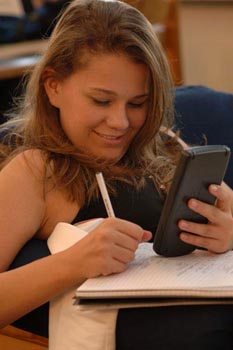 Access the World with Feinberg Library
Feinberg Library is a comprehensive center of academic resources for students and faculty. As part of the college's Library and Information Technology Services (LITS) division, Feinberg Library is connected closely with technology and Helpdesk services, networking, and Online Learning — so we've included some of these aspects on your tour.
We help to ensure that you have access to the best academic resources available worldwide and to experts who can help you produce quality academic work for your classes. Our technology staff is also on hand to make sure nobody pulls the plug on your projects.
We tailor our collection to the college's academic curriculum. Widely appreciated for its study-friendly environment, Feinberg is a one-stop resource center, replete with research help services, computers and computer-enhanced study carrels, classrooms, presentation rooms, and of course, our friendly librarians. Service desk assistants will help you find a journal, use the microforms, print, or copy materials.
Our experts are on duty and ready to assist you. Librarians will help you locate information and teach you how to conduct better research — in person, online, or by telephone. You can even make an appointment with a librarian for individual help. From day one of researching to completing your citations, we're here to work with you toward achieving your academic goals.
Feinberg welcomes students, faculty, and guests. The library provides access to more than 50,000 journal subscriptions, and houses New York State, Canadian, and U.S. government documents. Students and faculty alike are invited to suggest a purchase for the library.
We permit food and beverages in most areas. So grab your mochaccino and research assignments — your favorite carrel or comfy chair awaits!
Just for Faculty
SUNY Plattsburgh faculty are invited to request use of Feinberg's popular exhibit spaces, to reserve materials or arrange a group visit for classes, and to reserve carrels. Feinberg librarians also provide faculty with customized faculty support, so please don't hesitate to contact us to begin individual conversations about your teaching and scholarship needs.