Jump to Footer
Amplified Photo Phone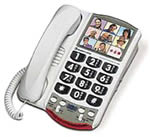 This amplified telephone makes dialing easy by identifying programmed speed dial buttons with pictures of your friends and family.
Bed Cane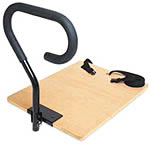 The Easy Riser Bed Cane bed rail provides a helping hand when getting in and out of bed. Board slides between mattress and box spring, and straps around mattress for stability.
Call Alert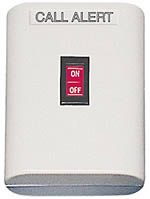 Product Features:
An ideal visual alerting device for hard-of hearing individuals as well as for TTY/TDD's and noisy areas
It works with the lamp on or off
Easy plug-in connection
FCC Approved
Covered under a 1 year mfg. warranty
Product Description:
This device alerts you when the phone is ringing by the flashing of a connected lamp to the call alert unit. Equipped with a convenient long cord and lamp control switch. Works whether lamp is switched on or off! *Please note this unit does not send signals to other call alert receivers. If you like to be alerted in other rooms you must then order the call alert master unit (90*CA200M) and extra call alert receivers (90*CA200RX) for each room needed. Each receiver must have a lamp connected to it in order for it to flash when activated.
Small Base Quad Cane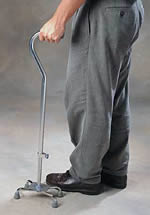 Also available with large base
Standard Cane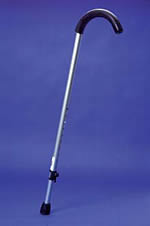 Assorted styles available
Commodes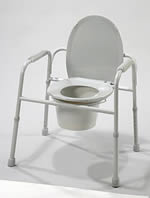 Foam Tubing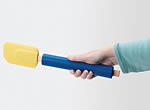 Foam Tubing II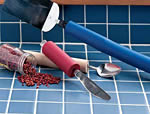 Hemi-Walker (Side-Stepper Cane)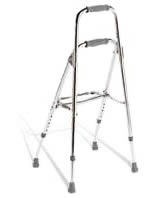 Jar Popper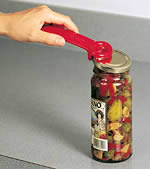 Leg Lift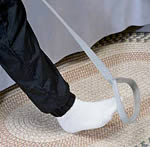 Portable Clamp-on Bathtub Safety Bar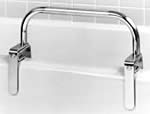 Raised Toilet Seat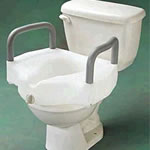 The Locking Elevated Toilet Seat with Arms comes with comfortable armrests that give an added feeling of security. Adds 5" to the height of a toilet seat.
Also Available Without Arms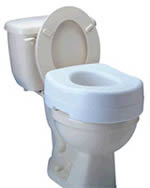 Portable Track Ramps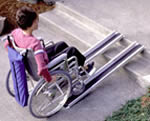 Collapsible to 41" long, weighing approx. 17 pounds each. To collapse, simply press the snap buttons and collapse each track. Durable, nonskid threads allow for optimum traction, even when wet.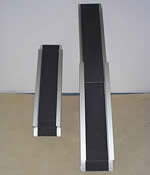 Metal Reachers / Extension Grabbers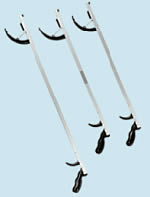 Easy-to-use reachers help seniors and other users grasp items from hard-to-reach places
Ideal for objects both above or below
The trigger handle pulls jaws tight
Magnet at the end helps lift small metal objects
Shampoo-Aide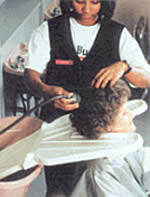 The no-mess shampoo aid does just that...makes shampooing hair more comfortable and less messy than any other shampoo aid known. It provides comfort for any seated individual because it is adjustable to fit various body types. It rests comfortably on the shoulders. The tray's raised edges channel water into the sink, keeping the floor and patient dry. Fits virtually all kitchen, bathroom, and laundry room sinks. The hinged center allows for height adjustment as well as folding in half for compact transport when needed. Tray measures 16 by 20 inches. Comes with a neck adapter, which serves as a foam gasket to help control the water flow. It gently hugs the neck and adjusts to various neck sizes. It attaches to the Shampoo Aide with elastic and Velcro fasteners so that it moves with the user if the user's head moves.
Sock Aid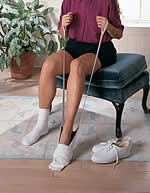 Standard Crutches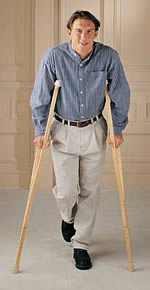 TimePAD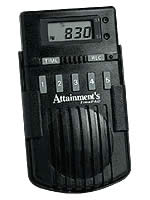 TimePADs assistive technology automatically plays messages at pre-set times. Set alarm to play recorded messages at just the right time. For example, "It's 8:30-take your medication." Up to 72 seconds of speech divided among five messages. Also functions as an expressive communication aid. Users just press the message buttons to talk. Batteries and clip included. Size: 21/8" x 37/8" x 3/8"
Toilet Safety Frame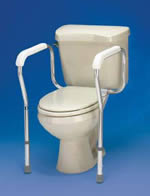 Transport Chair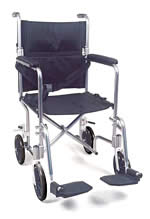 Tub Chair (with back)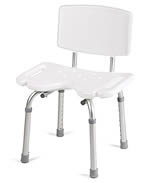 Tub Chair (without back)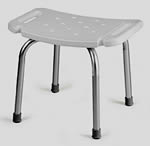 Tub Transfer Bench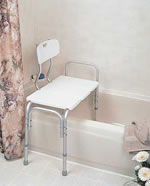 Rollite RollatorTM InvacareR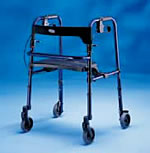 With its innovative design, the Rollite offers a flip-up seat with a built-in handle, flexible backrest, ergonomic dual paddle folding mechanism and handbrakes that lock the rear wheels for security. Lightweight aluminium frame folds into a compact 7" unit for storage and transport. Seat to floor height: 19-23". Seat depth: 9 /12". Overall width: 27", seat width: 17". 5" solid wheels. Product weight: 13 lbs. Weight capacity: 250 lbs.
Height adjusts 32-36"
Standard Folding Walker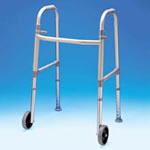 Walker Basket